The 2021 Kia Seltos brightens up your drive with these 12 color options
By Product Expert | Posted in Kia Seltos on Friday, June 19th, 2020 at 8:09 am
Exterior paint color options for the 2021 Kia Seltos
The 2021 Kia Seltos has 12 different color options for you to choose from, including Starbright Yellow and Cherry Black. Let's take a look at these different colors and which one you may want to get. Check it out!
Color options on the Kia Seltos
Your color options on the 2021 Kia Seltos include:
Cherry Black
Snow White Pearl
Steel Gray
Gravity Gray
Mars Orange
Neptune Blue
Dark Ocean Blue
Starbright Yellow
Dark Ocean Blue/Clear White
Dark Ocean Blue/Cherry Black
Starbright Yellow/Cherry Black
Clear White/Cherry Black
As you can see, there are 8 solid color options and 4 color pairs that will give you a roof that is a different color than the body of the Seltos.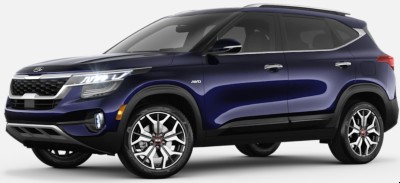 Read more: How far can the 2021 Kia Seltos go on a tank of gas?
Interior colors & materials of the 2021 Kia Seltos
You won't have quite as many color options available inside of the Kia Seltos, but you'll still find a fair amount. Inside, you'll have:
Black SOFINO
Gray SOFINO
Black Cloth
Black Cloth & SOFINO seat trim w/blue stitching
Test drive new Kia vehicles in Mankato, MN
Come on over to your friendly Kia of Mankato to test drive the Kia Seltos. Or, if you have your eye on a different Kia model, you can take those for a test drive as well. Either way,. You'll have a friendly Kia of Mankato team remember to tell you more about the model of your choice. Don't forget to check out our other blog to learn more about the Kia lineup as well as to get general information about your future Kia vehicle. Contact us if you have any questions!