Edmunds Top Rated Award goes to the 2020 Kia Telluride
By Product Expert | Posted in Kia Telluride on Friday, January 17th, 2020 at 11:16 am
Should I get a 2020 Kia Telluride?
The 2020 Kia Telluride won the Edmunds Top Rated Award! This new Kia model is definitely going places. Here's what you need to know about this model, and just why it is so popular! So, should you get a Telluride? Let's find out!
What makes the 2020 Kia Telluride so fun to drive?
In order to win the Top Rated Award, the Kia Telluride needs to have not only a stylish design, but it has to be comfortable, easy to use, have solid technology features, and be fun to drive. So, what all goes into these parameters that makes the Telluride win this illustrious award? Check it out!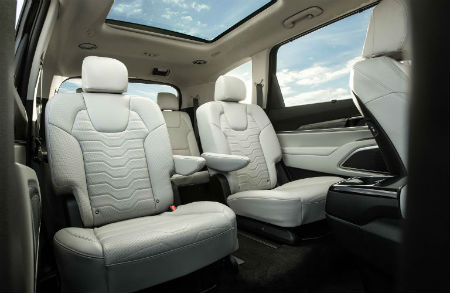 In terms of power and performance, the 2020 Kia Telluride has a 3.8L V6 engine that pumps out 291 horsepower and can tow up to 5,000 pounds. This makes it an excellent model to take on vacations, and the rest of the technology features only accentuate this. It can seat up to 8 people, and has comfortable Sofino Synthetic Leather Seats.
When it comes to technology, the Telluride doesn't disappoint. Check out entertainment features like its smartphone connectivity and 8-inch touchscreen display, but don't forget about some arguably more important technologies as well. We are of course speaking about the various safety features this SUV offers, including Auto Emergency Braking and Warning, Rear Cross-Traffic Alert and Avoidance, and Lane Keeping Assist & Lane Following. We've all experienced moments of distraction during a drive, but now we have these safety features to help keep our attention on the road.
Read more: Is the 2020 Kia Telluride the best crossover SUV for sale?
Test drive the 2020 Kia Telluride in Mankato, MN?
There's plenty more to enjoy with the Kia Telluride, so if you want to dive into specifics, be sure to check out our blog. You can find more information about the interior of the Telluride, as well as the color options it has available.
Come on over to your friendly Kia of Mankato to find your Kia Telluride today. We have plenty of Kia models, so come on over to compare them with the Telluride and see which one is your favorite. If you have any questions, comments, or concerns a knowledgeable team member would be happy to help out, so don't be afraid to ask!